Common spaces: where the fun stuff happens
Alpiness coliving used to be a former hotel. The house is organized on 4 floors and all our rooms being located in the higher floors. These spaces are what we would call "private bubbles for colivers".
In addition to these, there is about 150 sqm of so called shared spaces. In those, you'll find a large 20 sqm fully equipped shared kitchen, a cozy living room with couches and a swing to chill / relax (and a projector to watch movies), a dining room for 14-18 people as well as a large workspace. Here is a schematic view of the ground floor: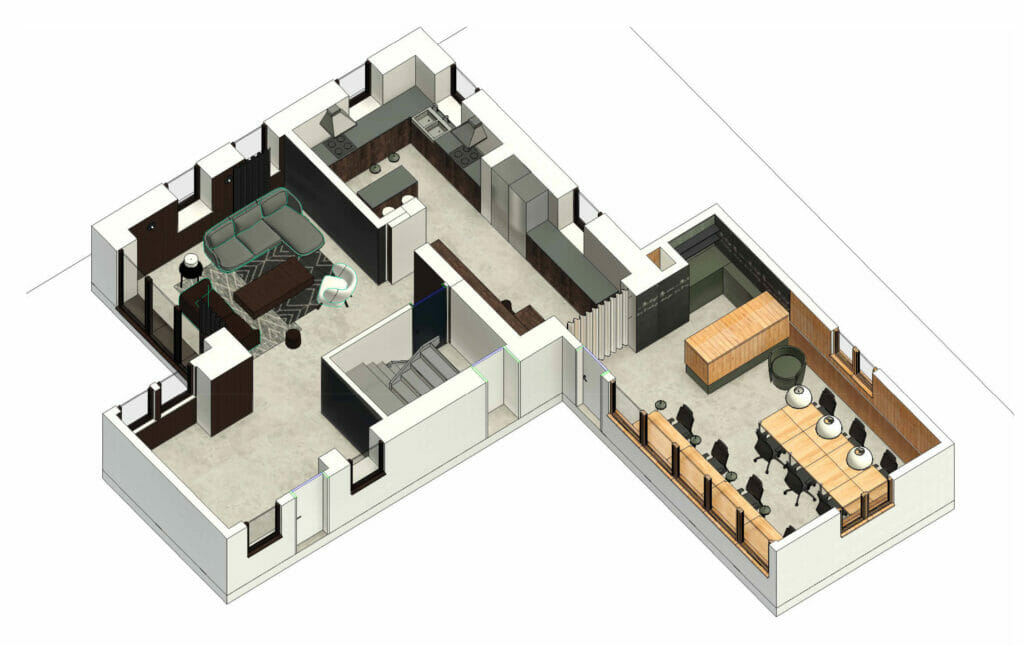 The shared kitchen
During the renovations, one of the room where we putted the most efforts is our big shared kitchen. In a coliving, the kitchen is a place where a lot of things happens! It needs to be
big enough that several people can cook at the same time
organized: people need to see easily where things are
well equipped: we have a dishwasher, a big double sink, 2 cooking stations, 2 ovens, a super good coffee machine, 2 big freezers, lots of storage space…
encouraging interactions between colivers… That's why we have an island in the middle 😉
…
Plus we know that dining out is not as affordable in Switzerland as in some other places… That's why we think a lot of people are going to cook at home. One more reason to put lots of love in this part of the coliving 🙂
Other shared spaces
But our coliving is not all about the kitchen 😉 . We have plenty of other shared spaces to spend some good times with other colivers or to work from:
We have a big and well equipped coworking space.
A cozy living room with sofas, couches, a cool swing, a jukebox from the fifties, a projector for movies and skillshares
A big dining room for some family dinner fun
On the 2nd floor we have a big terrace for some aperos with a view (we have a stunning view over the old village of Les Haudères and the mighty Dent-Blanche)
On the 2nd floor we also have a call room
And on the 3rd floor there is a multipurpose room equipped with yoga mats, weights, dumbbells, kettlebells, pull up bar, couches, TV…
P.S. The basement will be transformed soon to include a 30 m2 gym and chill area (this will be done in spring 2024 and it's gonna be AWESOME).
Here are some picture of these spaces at the moment: