Back in May 2021, Ben and I shared a post on our travel blog to share our love for coliving spaces and the incredible impact it had on our productivity, friendships and way of travelling while working remotely. This was quite a long post (feel free to read it here), but our very last sentence back then was:
We've started talking to some people about it, we're "keeping our eyes open" and we'll see where it goes. So no, no announcement (for now) but clearly coliving and us is a story that is here to stay"
Little did we anticipate that just over two years later, I would find myself seated within our very own coliving space nestled in the Swiss Alps, thrilled to announce that bookings are now open! I must admit, it has been quite the adventure… and what a delightfully enjoyable one it has been. (And somehow, it feels like that this is merely the beginning of an even greater journey). 😉
Alpiness Coliving : come work remotely from the swiss alps!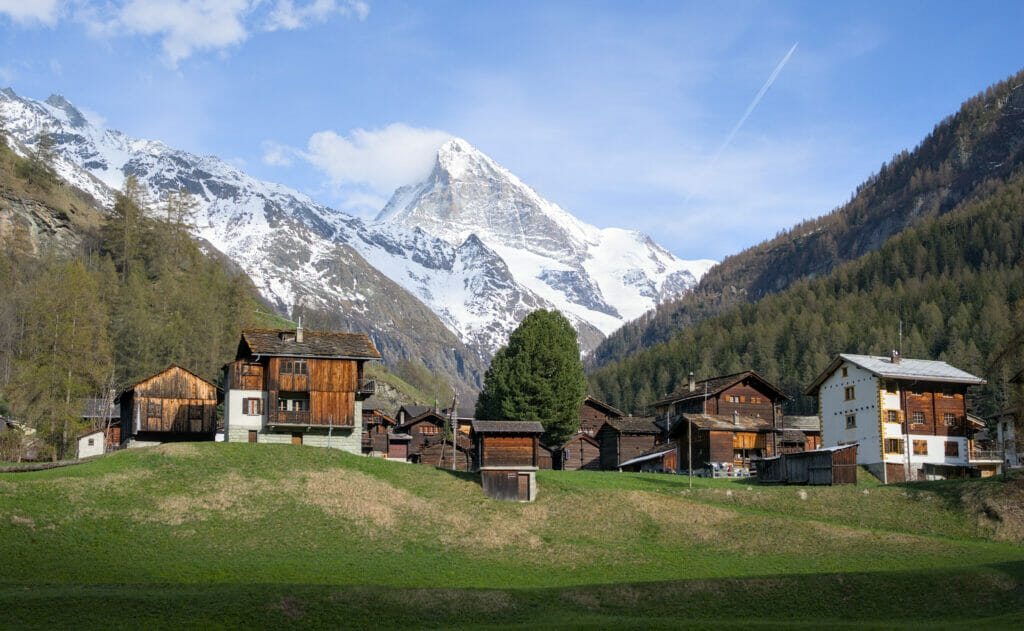 We are thrilled to share a momentous milestone on our journey – Alpiness Coliving is almost ready to unveil its doors to remote workers seeking a blend of productivity, tranquility, and outdoor activities in the heart of the Swiss Alps. As the sun-kissed days of summer wane and the crisp air of autumn beckons, we are delighted to announce that bookings for Alpiness Coliving are officially open, with our doors welcoming you starting from September 1st.
Imagine starting your day with the invigorating scent of larch trees and a breathtaking sunrise, followed by productive work hours in a space crafted to fuel innovation and focus. As the sun sets, exchange stories with fellow colivers or embark on an alpine adventure, exploring the myriad of trails, climbing spots and breathtaking landscapes that surround us.
We are incredibly grateful for the unwavering support we have received from our community and friends who believed in this vision. Your encouragement has fueled our determination, and we cannot wait to welcome you into our newly renovated haven. The countdown to September 1st has begun, and we eagerly anticipate the shared experiences, growth, and fun that await within the walls of Alpiness Coliving.
Prepare to embark on a journey that seamlessly merges work, play, and the untamed beauty of the Swiss Alps. The mountains are calling, and we invite you to answer.
PS: For those of you who don't know our region yet here are a few pictures of how our valley looks like in autumn. It's no exaggeration to say that we're brimming with excitement at the prospect of embarking on hikes and climbing adventures within this picturesque landscape in the months that lie ahead! 😊
To read more about hikes to do in the area in autumn (and see more pictures), you can check this blog post we wrote a few years ago (little did we know back then that we'd end up living here!)
5 months of renovations, sore muscles, challenges and amazing people
Our renovation journey – everybody told us it would not be easy
Ironically, as we began to share our plans to independently renovate this expansive property, with the assistance of fellow digital nomads and volunteers, we encountered two distinct reactions:
"Wow, this is remarkable! You must possess expertise in renovations to undertake such an ambitious project."
"Wait, what? You're doing what?"
The first response typically came from those unfamiliar with us or perhaps those who barely knew us. On the contrary, the latter reaction was common among our friends and family. 😉 Because, indeed, while Ben and I have excelled in areas such as computers, software, and perhaps hiking, our proficiency in manual labor was largely confined to assembling IKEA furniture and installing light fixtures (and even these rudimentary tasks often took us twice as long as someone with decent skills).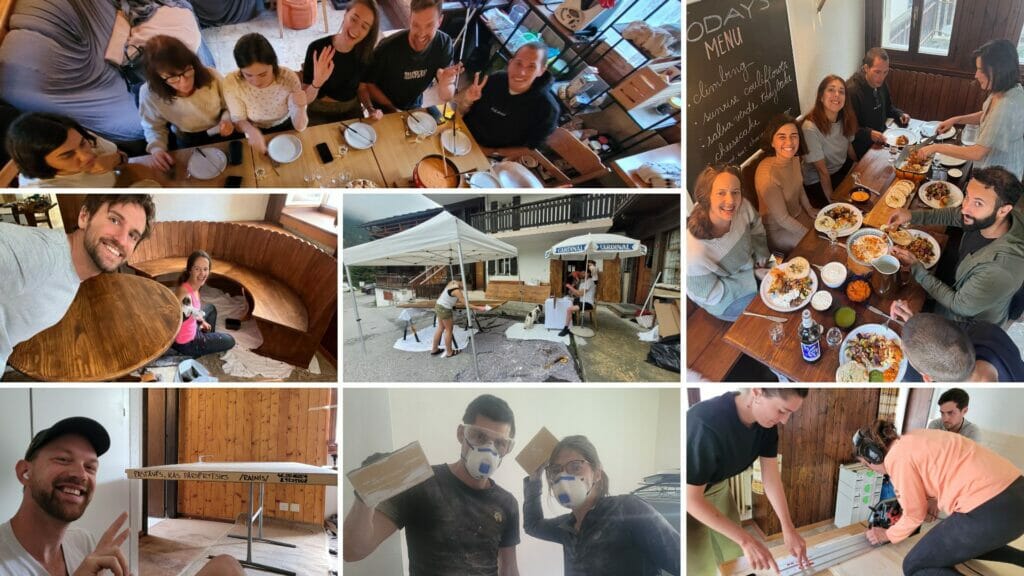 5 months later, I want to say that some were probably right about the fact that this would be difficult. But we are immensly proud to say that we've managed to do everything we wanted (and actually even more). We've been incredibly fortunate to have the support of remarkable individuals, including Nico, a local carpenter who played a pivotal role in constructing our kitchen from the ground up. Additionally, Olivier, a renovation coach we enlisted to address our inquiries, no matter how seemingly trivial, generously shared a wealth of invaluable insights. Not to mention Marta, a gifted architect and interior designer, whose compelling ideas and resolute character persuaded us to undertake projects that initially seemed beyond our capabilities. 😉
I think it's fair to say that never in our entire lives we've been as tired as now (physically) but somehow we also feel super enegized by all the amazing things we've managed to create together with all the people that helped us in the last few months. There is still quite a bit to do in the house before we open, but we'll also make sure to take a few days off to be fully rested and start this inaugural season with full energy!
Sneak peak in what's awaiting you
For those of you who have been following us on Instagram, you might have seen a few pics already, but here are some of our latest pictures of the house and our very first before and after pictures (keep in mind, we still have some work to do… there are still tiles missing in the kitchen, a few shelves here and there and also some art work in the rooms, but we're confident this will all be finished by September 1st).
Our kitchen evolution :
There is still quite a bit to be done, but we're pretty proud of the progress so far:
The rooms before:
The rooms now:
The dining room before and after:
That's it for today! In the upcoming weeks, we'll update the website to include more pictures and add some more content about all the amazing things that can be found in our surroundings! In the meantime, feel free to reach out if you have any questions.
I'll finish this post with a HUUUUUGE shoutout to all the people who have helped us in the past months make this dream come true! Sometimes we had no idea what we were doing but we were doing it together. A little part of you will always stay with us. Thank you Yatziri, Marta, Olivier, Chalinee, Duane, Edouard, Patricia, Christine, Olivier, Manu, Laura, Fanny, Sorcha, Yushing, Sunny, Rémy, Austris, Vlad, Marilia, Cesar, Sole, Ramon, Nicola, Sabine, Christina, Marie, Nico (anku.swiss), Jean-Michel, Enes and all the others!