Alpiness coliving is located in the village of Les Haudères, at the heart of the beautiful Hérens valley, just under the mighty Dent-Blanche (4357m). Our valley is a true paradise for anyone that is interested in winter activities such as ski, ski touring, nordic skiing, snowshoeing, ice climbing, ice skating and so on… Far from the hustle and bustle of the big ski resorts of the Swiss Alps, you will be surrounded by untouched nature and still have access to any winter activity you could think of… and all that, just at our doorstep.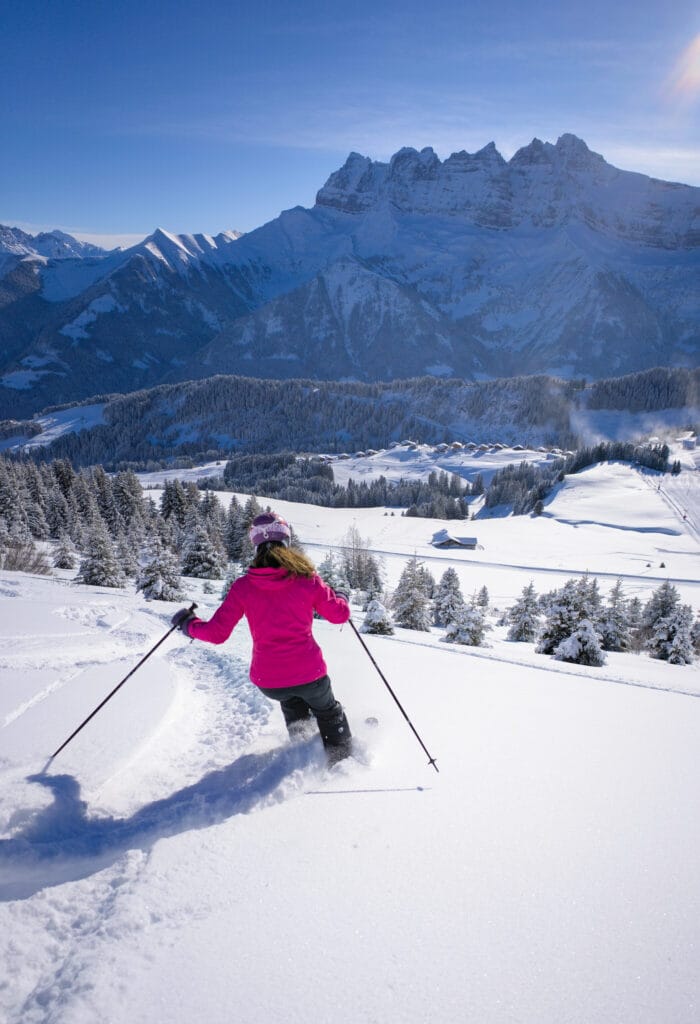 In fact, there are 4 ski resorts you can reach in 5 and 20 minutes drive from the coliving (all accessible by free public transportation… we'll come back to that at the end of the post) and they are all included in the incredible Magic Pass offer. We also have more than 40 + kms of nordic ski tracks starting just in front of our door. But what's probably the most underrated are the infinite possibilities we have in our valley for ski touring, snowshoeing (also ice climbing). If you are into those activities, you'll be able to access remote places, to see glaciers and 4000m peaks, enjoy the best powder snow and all that very far from any ski lifts or cars 🙂 .
So if you plan to visit Alpiness Coliving during the winter season and you've been wondering where to ski, which ski pass to buy, how to rent gear, how to access the resorts and so on… You'll find all the answers in this guide:
Note: we don't have many pictures yet as we didn't spend our 1st Winter in the valley. But we will update this blog post with lots of images of our 1st winter season.
The Magic Pass: unlimited ski in 60+ places starting at only 399chfs
Let's start with the magic pass which is an incredible offer that has revolutionized the ski landscape in Switzerland. Before, the biggest ski resorts like Zermatt, Verbier or Davos had the best offers for skiing (biggest domains, lots of slopes and so on). But skiing in those places is still extremely expensive and not so many people could afford it.
To counter that, smaller ski resorts that were struggling a bit, started to team up to create the magic pass, an offer that would give people access to many smaller ski domains for an interesting price. When they started in 2017, there were 25 smaller ski resorts you could access with the magic pass. In 2023, there are 69 ski resorts with big domains like Saas Fee or Grimentz that are included in the pass. And if you buy it early enough, it could cost you as little as 399chfs for the whole winter and summer season (if you like downhill biking for exemple 😉 ).
The Magic Pass pricing: is it worth it for you?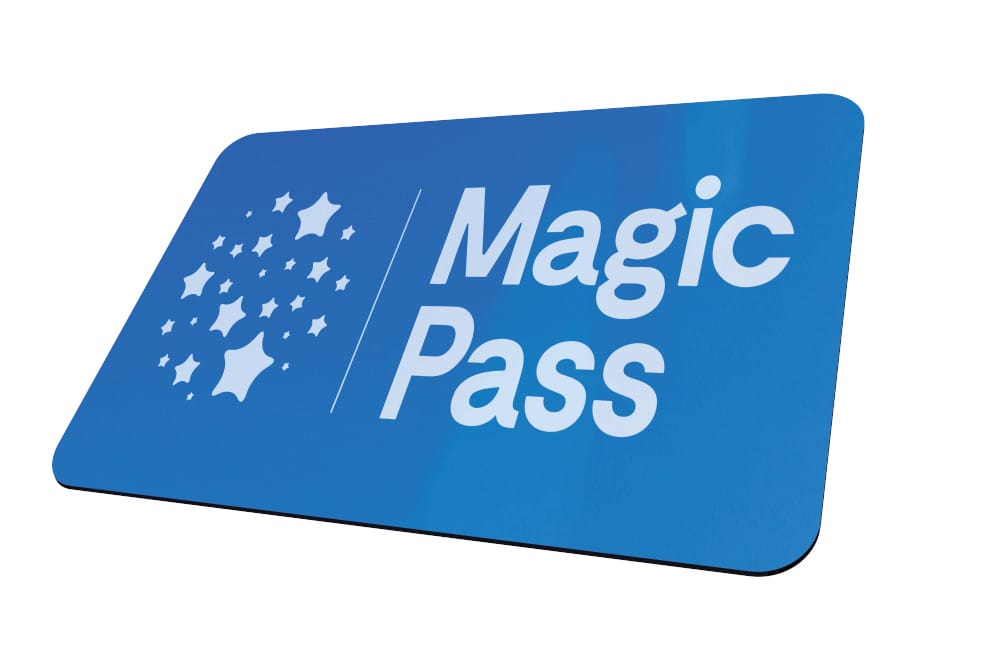 Tha magic pass has an interesting pricing and is much cheaper if you buy it in advance. The exact prices changes a bit from year to year but usually, if you buy before the end of the Summer, you'll pay the cheapest price which was 399 chfs in 2023. And then its price increases bit by bit the closer you get from the winter season. But to give you an idea, most of the people who booked for the 1st winter season at Alpiness coliving bought the pass in September or October and paid between 400 chfs and 500 chfs which is still a very good deal!
So is it worth it for you to buy the Magic Pass?
It will mainly depends on how long you stay at the coliving and how much you plan to ski. But knowing that a day pass in the ski resorts of our valley is between 45 and 55 chfs, if you think you're going to ski more than 8-10 times… then the magic pass is already worth it. Plus if you buy it, you won't hesitate to go skiing for 2 hours in the morning or if the weather is not perfect. You'll just go skiing whenever you feel like it and you'll be much more flexible.
So in our opinion, if you stay longer than 1 months at Alpiness during the winter and you plan to ski, you should really consider buying it.
The ski resorts in the Magic Pass around Alpiness coliving
So now let's talk about the closest ski resorts you'll have access from Alpiness coliving and that are also included in the Pagic Pass:
Arolla: the powder paradise
Arolla is located at the very end of our valley (15min by car, 25 by bus. Bus leaves in front of our house) and is a real powder paradise. With slopes located between 2000m and up to 3000m, you usually have a lot of good snow during the whole winter season. In fact, the slopes in Arolla are opened from mid December to mid April.
Even if Arolla is a small ski resort (4 lifts), it offers a nice variety of slopes (a few blues, reds and one black slope) with very good snow as it goes up to 3000m. Plus the possibilities for freeriding in powder are almost infinite up there. If you're into ski touring, Arolla is also the start of many itineraries. And for nordic skiing, Arolla also offers a super nice 13 kms track.
To give you a better idea, here is a map of the slopes in Arolla: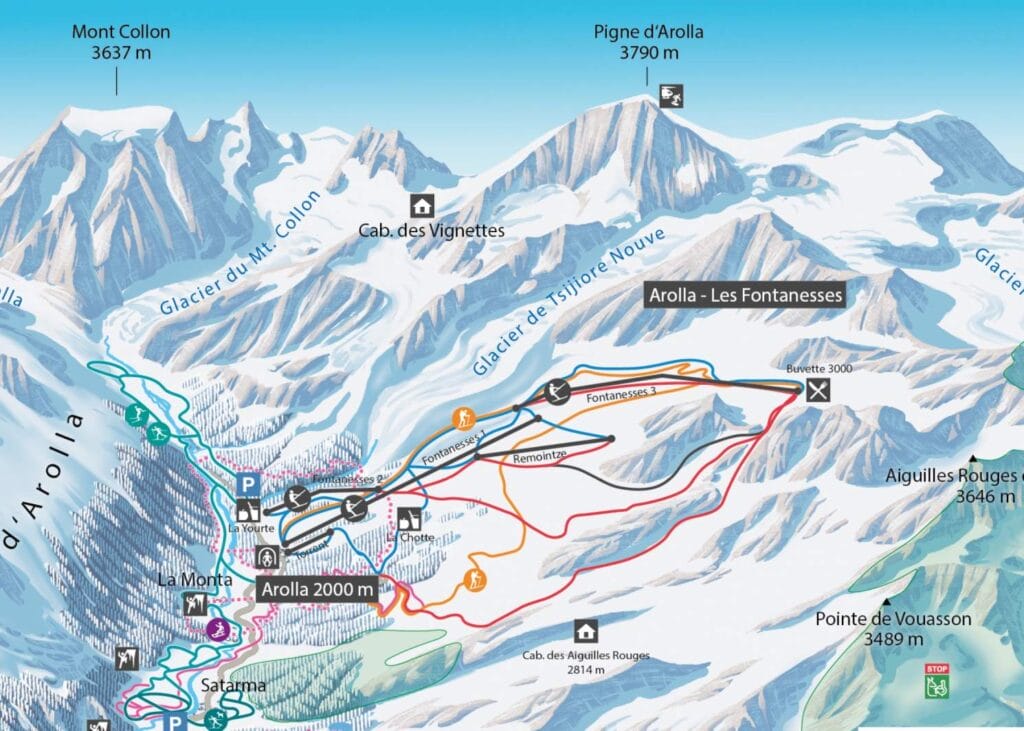 Evolène: Ski with a view on Dent-Blanche and Matterhorn
Evolène is another small ski resort located just next door (5min by car, 10min by bus). It also goes up quite high (2680m) which insure good snow conditions and offers a variety of black, red and blue slopes. When the conditions are good, there is also some good freeride to be done here.
But I would say that one of the cool thing about this resort is the view you have while skiing down the slopes. In front of you, you'll have the beautiful Dent-Blanche (4357m) and the famous Matterhorn (4478m) next to it. So if you haven't seen Matterhorn yet, this is your chance 😉
Here is a map of the slopes in Evolène: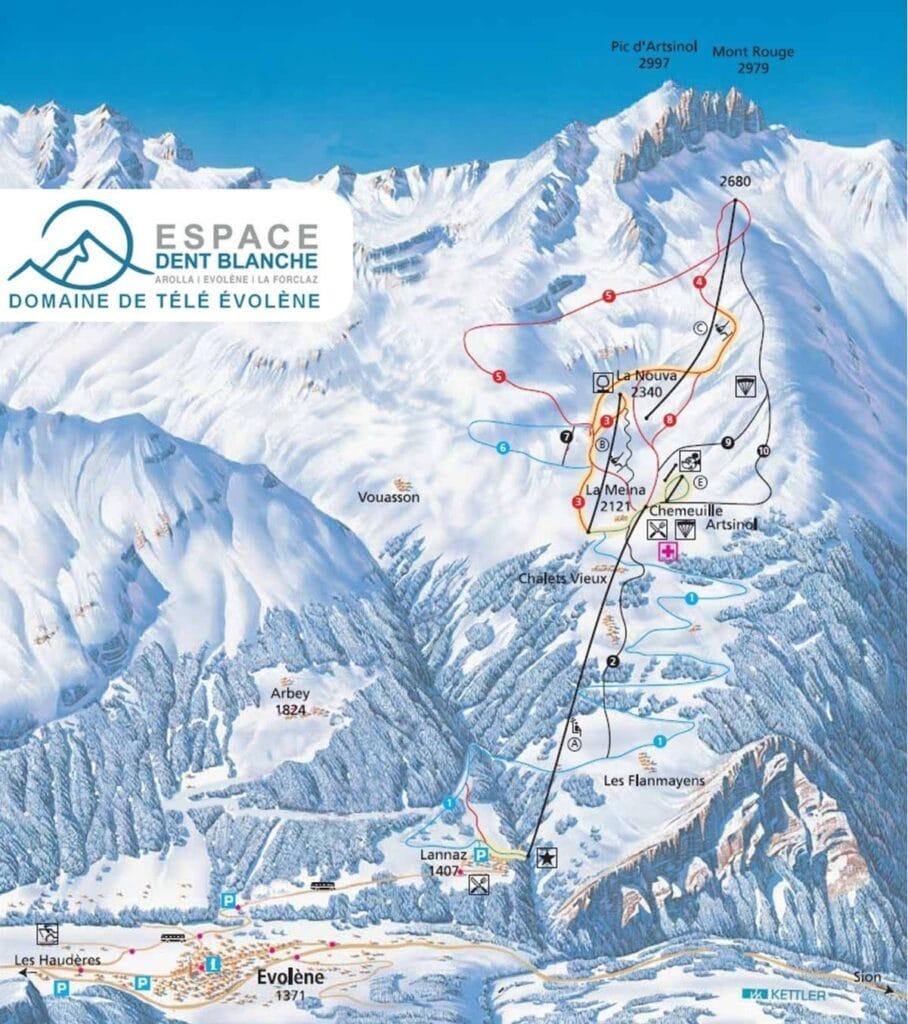 La Forclaz: perfect for ski beginners
La Forclaz is another small ski resort located on the other side of the valley, 5 minutes away from the coliving (10 min by bus). This one is a very good spot for beginners (mainly blue and reds) and it's also the place where you will find the most sun in the valley.
Here is the map of the slopes in La Forclaz: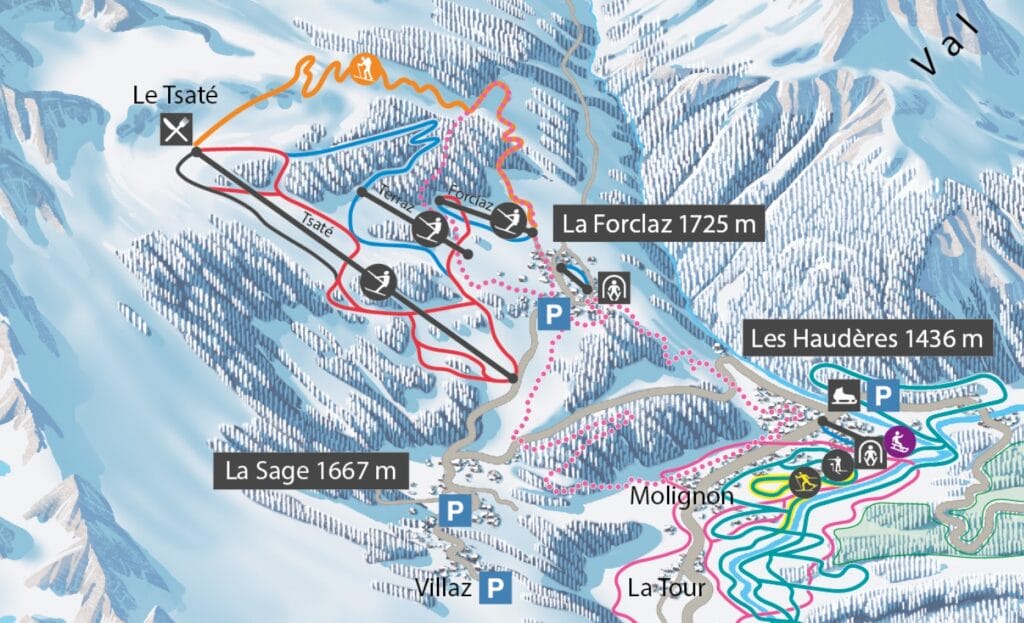 These 3 ski resorts all together are called "Espace Dent-Blanche" (or the "Dent-Blanche space" if you prefer). You'll also find a nice interactive map with everything you can do in this area using the link below:
Nax – Mont Noble
Nax is located 20 minutes drive from our coliving (harder to get by bus though) and is a nice alternative to the resorts of "espace Dent-Blanche". The domains goes up to 2670m with 3 chairlifts, 1 ski lifts for 35 kms of slopes. It offers also a super nice panorama over the central Valais region. I would say the only con is that it's hard to access by public transportation from the coliving as there are no direct bus from Les Haudères.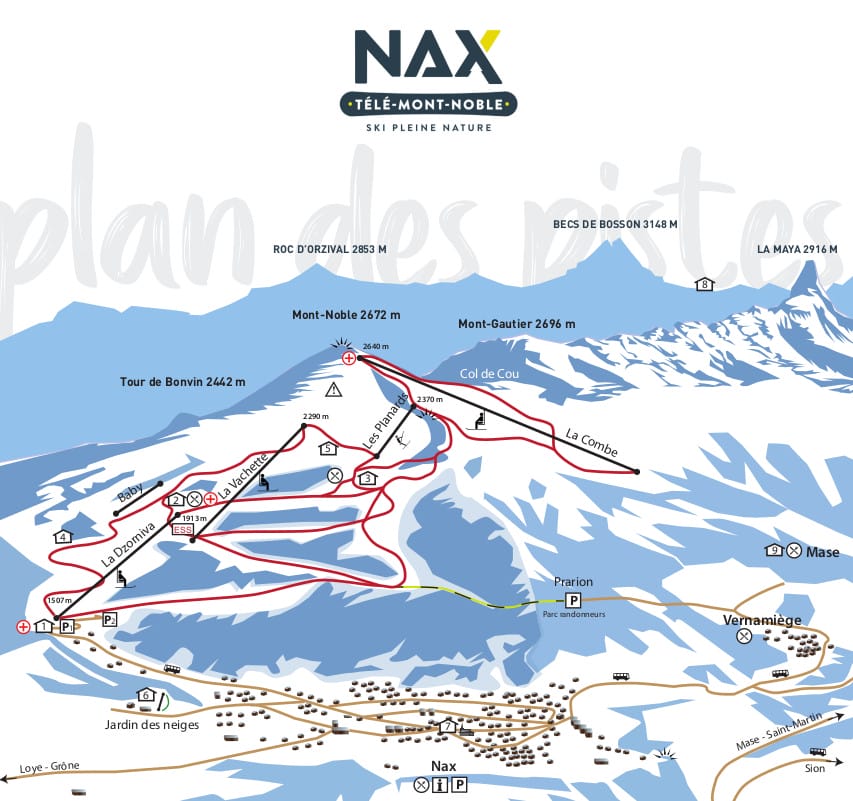 Other ski resorts in the Magic Pass more than 30 minutes away to keep you entertained
If you need more to stay entertained the whole winter or if you just want to try something else, don't worry! With the Magic Pass you're covered. Outside of our valley, there are some of the best ski resorts in Switzerland that are also included in the pass. To give you an idea, here are our favorite ones for a daytrip from the coliving:
Saas-Fee (and Saas-Almagell): 150 kms of slopes up to 3600m (1h40 drive)
The Saas-fee ski resorts is the second highest place you can ski in Switzerland after Zermatt… and yeah it's included in the Magic Pass! Because slopes are going up to almost 3600m, you can ski usually from mid November to the end of April in the Saas valley. It's also a big resorts with more than 100 kms of slopes available with the most modern infrastructure you can imagine.
You can definitely count on us to go there in November to get the ski season starting before Arolla opens up in December. Here is the plan of the ski slopes in the Saas valley: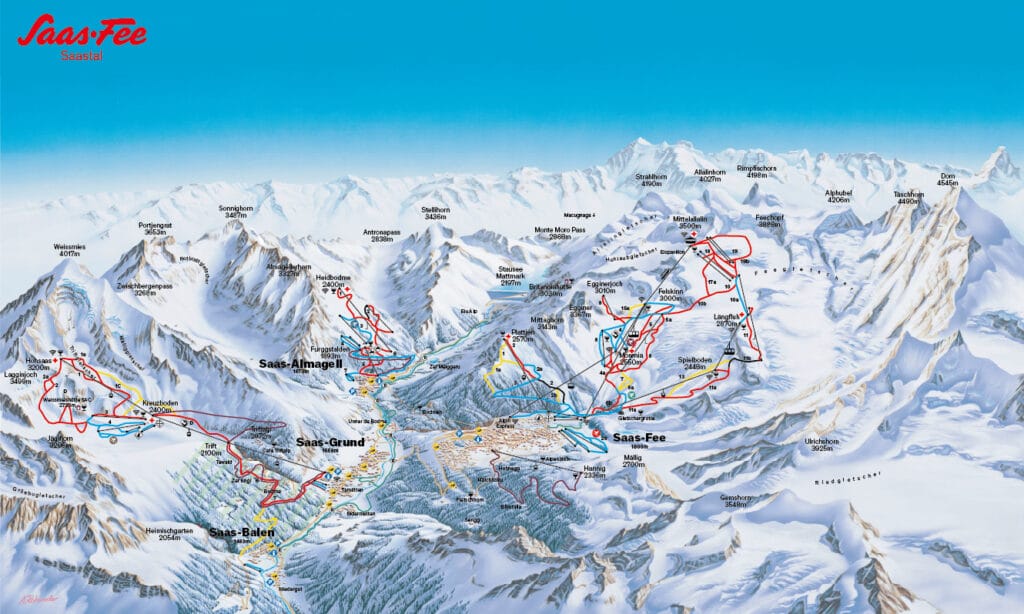 Anzère (50 min drive)
If you check the map of Valais region, Anzère is located just in front of our valley and is a 50 minutes drive away from the coliving. Even if it's not going up as high as Arolla or Saas-Fee (top of the slopes around 2400m), when the conditions are good, it's a super cool spot for skiing with 60 kms of slopes for all levels.
Here is a detailed map of the slopes in Anzère: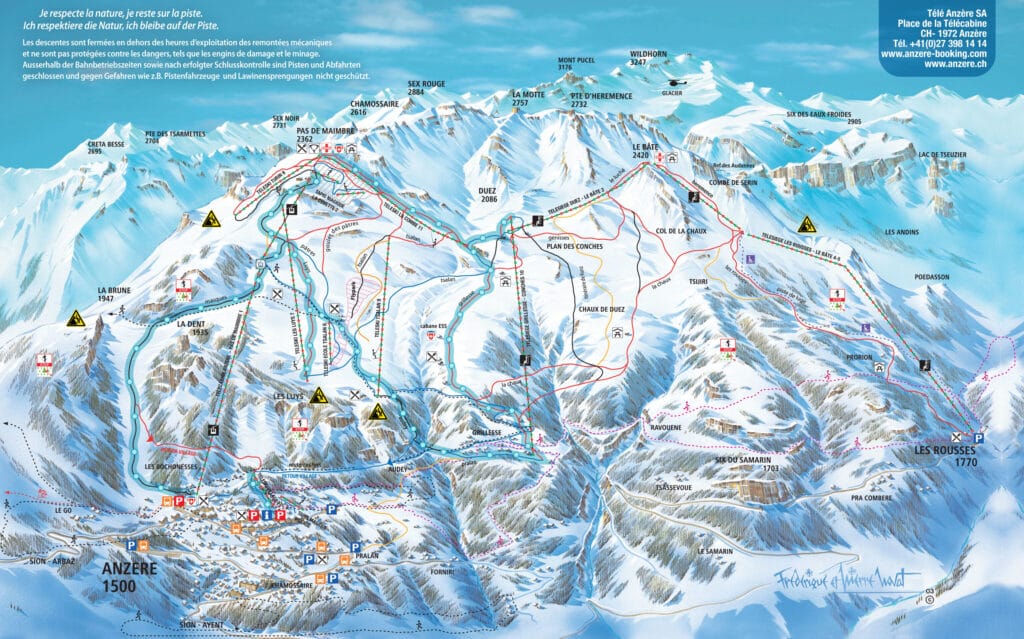 Grimentz – Zinal – St-Luc – Vercorin (1h drive)
It's our neighbouring valley (Annivier valley) and the home to our friends from Swiss Escape. Even if on a map it looks very close (in summer we can hike there 😉 ), going all the way down our valley to go up the other takes a good hour drive. But this valley also offers some very good skiing and all the resorts (Grimentz, Zinal, Sr-Luc and Vercorin) are included in the Magic Pass! Very nice for a change of scenery 😉
Here is the map of the slopes in this valley: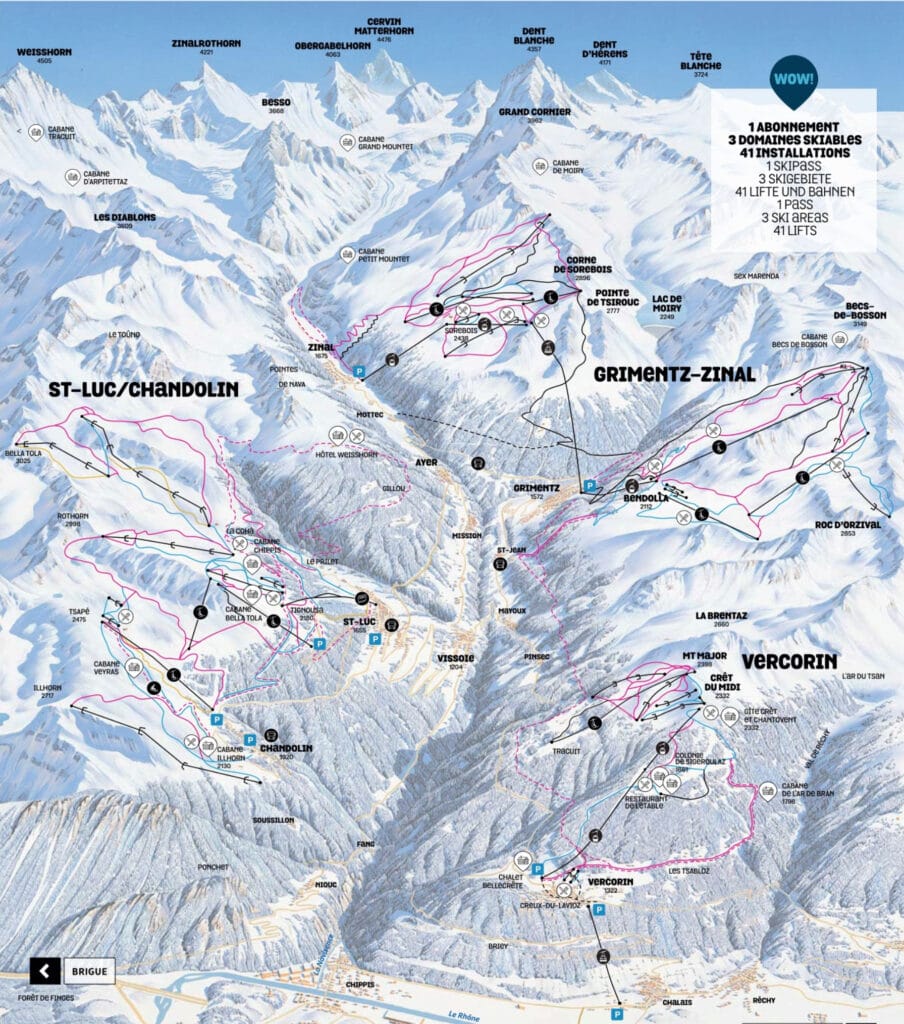 Leukerbad: ski and thermal baths (1h10 drive)
Leukerbad has the specificity that it is almost more well known for its thermal baths than for its ski resorts. So if you fancy a really good ski day followed by some relaxing natural spas, Leukerbad is the place for you 😉 . Leukerbad is located just a bit more than an hour drive from the coliving and here is a plan of the slopes available there: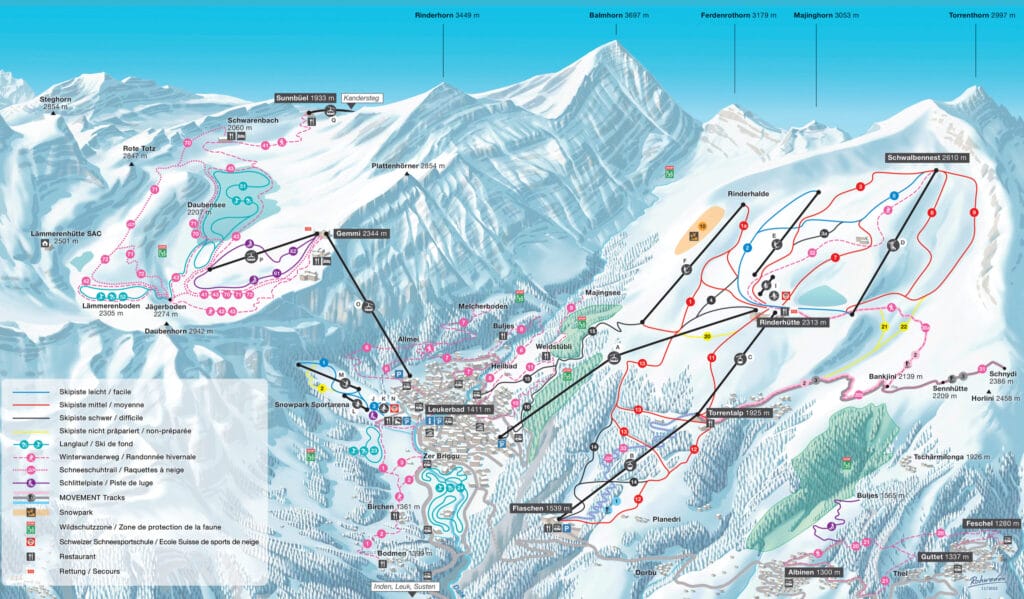 And many more ski resorts
Of course, if it's still not enough for you, the Magic Pass will give you access to 60+ locations for unlimited winter fun
Ski touring in Val d'Hérens
If you're into Ski touring (or splitboarding 😉 ), our valley is without a doubt one of the best location in Switzerland. Because we are a bit out of the beaten paths and that there are no big ski resorts here, we have a lot of places where the nature is still untouched! There are many itineraries where you will just have the mountains for yourself and we can promise you this is another feeling than skiing down prepared slopes in a ski resort.
For example Arolla is on the famous ski touring itinerary from Chamonix to Zermatt (the Haute Route) but is also the start of many other alpine ski touring itineraries. Just to give you an idea, here is a map provided by the Federal Office of Topography with a lot of ski touring routes available (in blue on the interactive map):
Regarding safety for ski touring
Ski touring is an activity that requires experience and safety gear. Unfortunately there are people dying under avalanches every year in the alps while ski touring. So to minimize the risk, you need to know how to assess the avalanche conditions, how to prepare your adventure and how to use safety gear (avalanche transceiver, probe, shovel).
So if you don't have your own safety gear (or you don't feel like you have enough experience with it), we recommend that you start by taking an avalanche course with a professional guide (we can organise this for you). This way, you will learn how to use an avalanche transceiver (or beacon), how to assess the snow conditions and how to prepare your next adventure as safely as possible.
Snowshoeing in Val d'Hérens
Snowshoeing is a much more accessible activity than ski touring. There is less gear involved (you only need snowshoes and poles), you don't need to be an experienced skier as well and there are well signposted trails all around our valley. Snowshoeing is a great way to enjoy the beautiful landscapes our region has to offer in Winter and we highly recommend you to try this activity.
Of course we will share some of our favorite itineraries on our blog, but in the meantime, you can find some itineraries on val d'Hérens website:
Nordic skiing in Val d'Hérens
Our valley is one of the best location to do nordic skiing in the Valais region. Just in front of the coliving, we have a 20+ kms track that goes between our village (Les Haudères) and Evolène. There is as well a smaller loop with lights (1,5 kms) to keep training even at night.
For a change of scenery you can drive (or take the bus) 10 minutes towards Arolla to find another big nordic skiing track (13,5 kms) which is a bit higher in altitude (2000m). This spot is great at the beginning or the end of the season as the snow conditions are a bit better up there 🙂
The good thing as well with nordic skiing is that it's much cheaper than regular skiing. A daily pass will cost you 12 chfs and the yearly pass to access all the slopes in the french speaking part of Switzerland only 105 chfs. So if you like nordic skiing, don't even think about it and buy the pass 😉
Other winter activities you could try
Winter is not just about skiing 😉 . You could also want to try:
Ice climbing
We don't have much experience with this activity yet… But our longest coliver so far has and I have no doubts that he will teach us some ice climbing techniques over the winter 😉 . Apparently we have quite a lot of good ice climbing spots in our valley and we can't wait to try this out!
Ice skating
What are 2 tennis courts during the summer season transforms into a natural ice skating rink in Winter. So if you're down for some ice hockey or ice skating, the rink is a 5 minutes walk away from the coliving
Winter gear rental
We know it might be complicated for remote workers and digital nomads to own and/or travel with their winter gear. Plus we know as well that it can get very expensive to rent all your ski gear in a sport shop. One of our goal when we opened Alpiness coliving was to make it more affordable for people to come work in the swiss alps while enjoying our mountain paradise. That's why over the last few months we decided to buy a lot of second hand gear for cheap rental to our colivers.
So far we have:
4-5 pairs of skis specifically to ski on the slopes (slalom / giant slalom)
2 pairs of wider skis for powder
2 ski touring sets (powder skis, skins and fixations… we don't rent the safety gear like the beacon)
1 nordic skiing set (skating)
2 snowboards
Some boots, shoes and sticks of various sizes
We can't promise you we have enough gear for everyone neither that we will have your shoe size… But the idea is, if you don't have your own gear, that you can rent some for a small price at the coliving… instead of not going at all because it's too expensive to buy the pass plus rent all the gear. We also hope that, with time, we or some coliver will get some more second hand gear and that we will be able to provide more stuff for our colivers
Of course if you want to rent your own ski gear for your whole stay, we will be happy to recommend you our local sport shop which has everything you could think of.
Public transportation for skiing in our valley
By paying the tourist tax for your stay, you have access to free public transportation in our valley. The bus stop is literally just in front of the coliving and there are regular buses going up to Arolla and La Forclaz or down towards Sion. You can check the buses timetable here:
In winter there is also a free shuttle bus going from Les Haudères to the start of the slopes next to Evolène.
Well I think that's more or less it about the practical infos you need to know before coming to Alpiness coliving for the winter season!
Of course winter here is not just about all the outdoor stuff you can do, but also about spending some cosy time indoors with other colivers, being productive in our workspace, having a wood fire raclette or a fondue in good company and much more! Coliving is all about community , sharing some time with likeminded people and it can be a transformative experience 😉
By the way, if you want to be part of the crew for the first winter at Alpiness coliving, we still have:
1 budget single room for the 1st 3 weeks of January
a few rooms in March – April (we close the coliving for a months after the 15th of April to renovate the basement of our building)
If you are wondering, we can usually ski till mid-April in Arolla (as it goes up to 3000m) and last season the conditions where amazing for ski touring till the end of April. So if you want to be part of the 1st winter season at Alpiness, don't wait too long to book your room… because we are almost full already (we can't process this info yet… it's incredible!)
See you soon in the swiss Alps for some winter fun in powder paradise!